As Dr. Jane Goodall discovered nearly 60 years ago, chimpanzees are so like us; complex and intelligent beings sharing much of our emotions like fear, compassion, and love. When considering these traits, one chimpanzee in particular stands out: Her name is Wounda. You may have seen Wounda in the Jane Goodall Institute video below depicting what Dr. Jane Goodall calls one of the most extraordinary moments of her entire life. This embrace was seen around the world, affecting us on a universal level. Though Jane had just met Wounda, it was clear to both Dr. Goodall and Wounda that we are all connected, and that love lives beyond language or species.
But Wounda's story did not begin with her meeting of Dr. Goodall, and now there's a new chapter to her incredible tale…
Like many other victims taken in by the Jane Goodall Institute in the Republic of Congo, Wounda was saved from the illegal bushmeat trade; stolen from her home and her family by poachers. She arrived at JGI's Tchimpounga Chimpanzee Rehabilitation Center clinging to life. With the care of the knowledgeable and experienced staff of the Jane Goodall Institute, she was given medical treatment and support along with the affection and love of caretakers. Her recovery was unbelievable, and even included what is thought to be the first chimp to chimp blood transfusion in Africa.
A process years in the making, the Jane Goodall Institute has finally completed the work to get a group of fifty chimpanzees, two groups of around twenty individuals, moved onto the Tchimpounga sanctuary island of Tchindzoulou. What some may not know from the initial Wounda video is that this special chimpanzee was hugging Dr. Jane Goodall and thanking the JGI staff, like Dr. Rebeca Atencia who saved her life, as a response to being released onto this island, as she is one of the fifty who now call it home. These isolated island forests provide a more natural home safe from poachers, disease transmission and wild chimpanzees. Though the rescued chimps may never be able to be reintroduced into the wild, these islands are an important way to replicate a more natural way of life with other rescued chimpanzees in their social groups.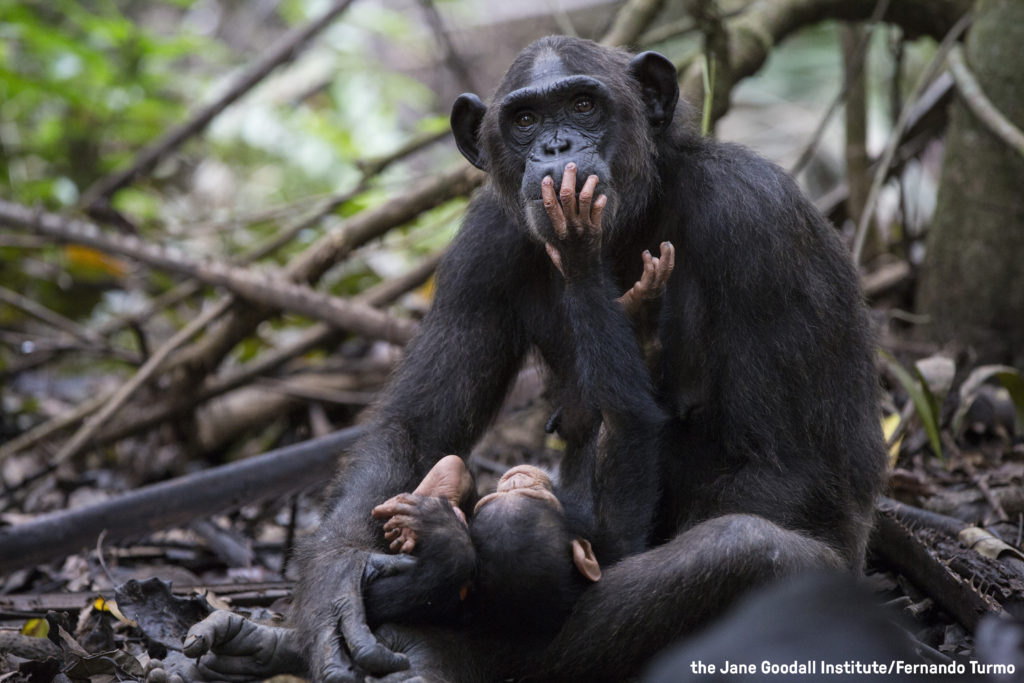 Wounda with her son at Tchinzoulou island
To ensure successful dynamics on the islands, JGI staff went through an extensive process. The two groups are made up of chimpanzees of both sexes and different ages, intending to replicate what a group of chimpanzees would look like in the wild. The two groups take turns spending the day in the forests of the island, and then return at dusk to sleep inside the housing facility on the island, which is conducive to a healthy and fulfilling life for all the chimpanzees.
Wounda, after all she has been through, is now the alpha female of one of these groups. Like all female chimps who live in Tchimpounga, Wounda received a long-term birth control implant, but as can occasionally occur, the birth control failed. She is now the capable and loving mother of an infant named Hope. Wounda has quickly adapted to her new forest home, and is forming deep bonds with the group of other rescued chimps. Chimps in her group often approach her to make gestures of submission and friendship to both Wounda and the alpha male Kefan, who is a close ally of hers. The female Koukele will occasionally approach Wounda to gently bite her arm, without causing any pain. This is a gesture that symbolizes trust between chimpanzees. Wounda always returns friendly gestures and caresses the chimpanzees who offer them.
Wounda's best friend Kudia often plays with Hope and Hope in turn plays along with these subtle submissive communication behaviors. Hope is beginning to explore his surroundings, and though Wounda is protective of her infant and allows only close friends to interact with him, she is allowing more of the group to participate in the excitement of this new baby. Through all of our observations, it is still remarkable to remember that not so long ago, it was unclear if Wounda would live. Now, she's brought new life into the world, and is a beloved chimpanzee in this sanctuary forest.
For Wounda, and all of the rescued chimpanzees in Tchimpounga sanctuary, this is a second chance.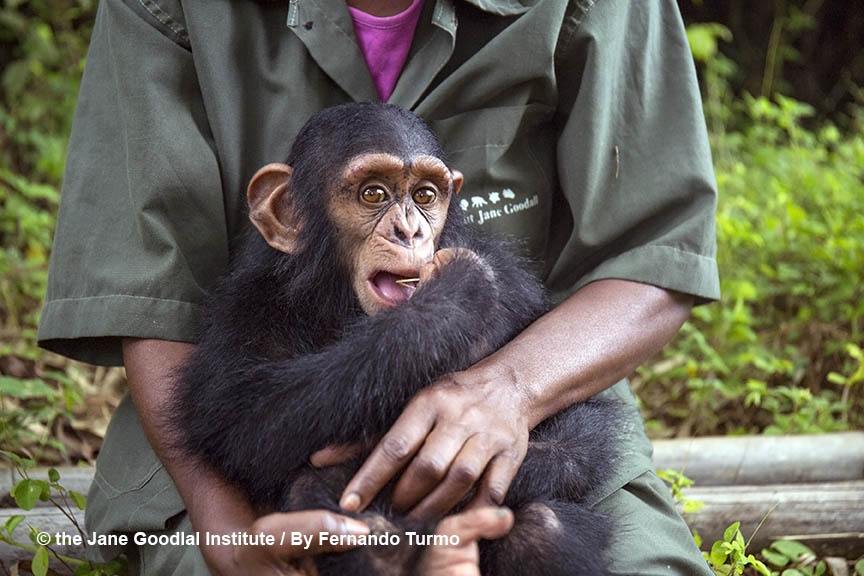 George, new arrival at the JGI Tchimpounga Chimpanzee Rehabilitation Center, November 2017.